Click here to view the original article.
[Zhang Yang suspected of serious disciplinary violations, Xinhua report says. See also:
Xi Jinping's anti-corruption drive brings down more generals than 20th century warfare
. *RON*]
Minnie Chan
, South China Morning Post, 28 November, 2017.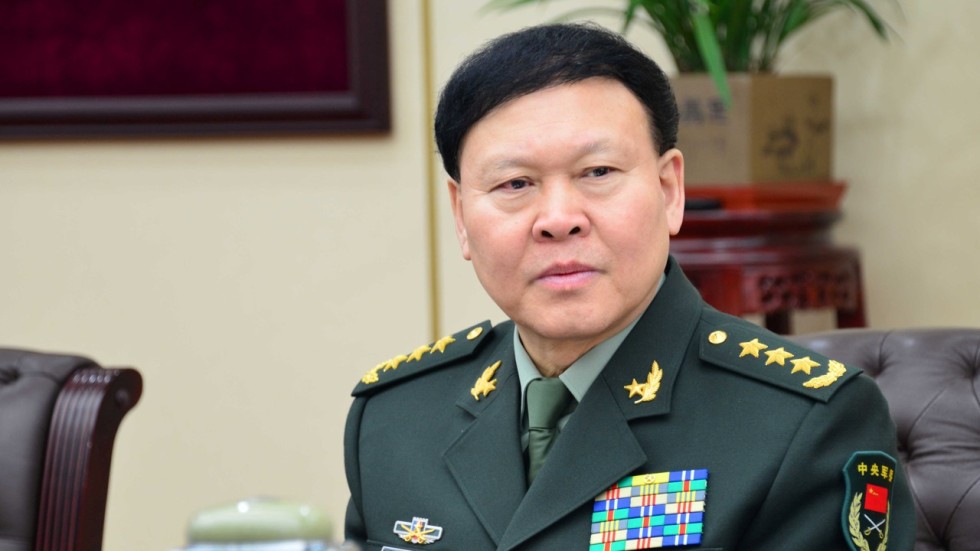 General Zhang Yang, a former head of the powerful Central Military Commission's (CMC) political work department, committed suicide last week, Chinese state media reported on Tuesday.
He is the most senior miliary officer to have killed himself during ongoing graft investigations targeting the People's Liberation Army.
A source close to the former Guangzhou Military Command told the South China Morning Post Zhang, 66, had hanged himself at his home in Beijing on the morning of November 23, and the news of his death had been relayed to all five PLA theatre commands over the past few days.
A Xinhua report confirmed the circumstances of his death. It said Zhang had been linked to former disgraced CMC vice-chairmen Guo Boxiong and Xu Caihou, and was suspected of serious disciplinary violations – a euphemism for corruption.
Guo, 75, a CMC vice-chairman between 2002 and 2012, is serving a life sentence in jail for graft. Xu, a CMC vice-chairman between 2004 and 2012, died of cancer in 2015 at the age of 72 while in custody and under investigation for graft.
Xinhua said an investigation showed Zhang owned "enormous property holdings of unknown origin" – an indication he had taken bribes. It said he had been living at home while under investigation.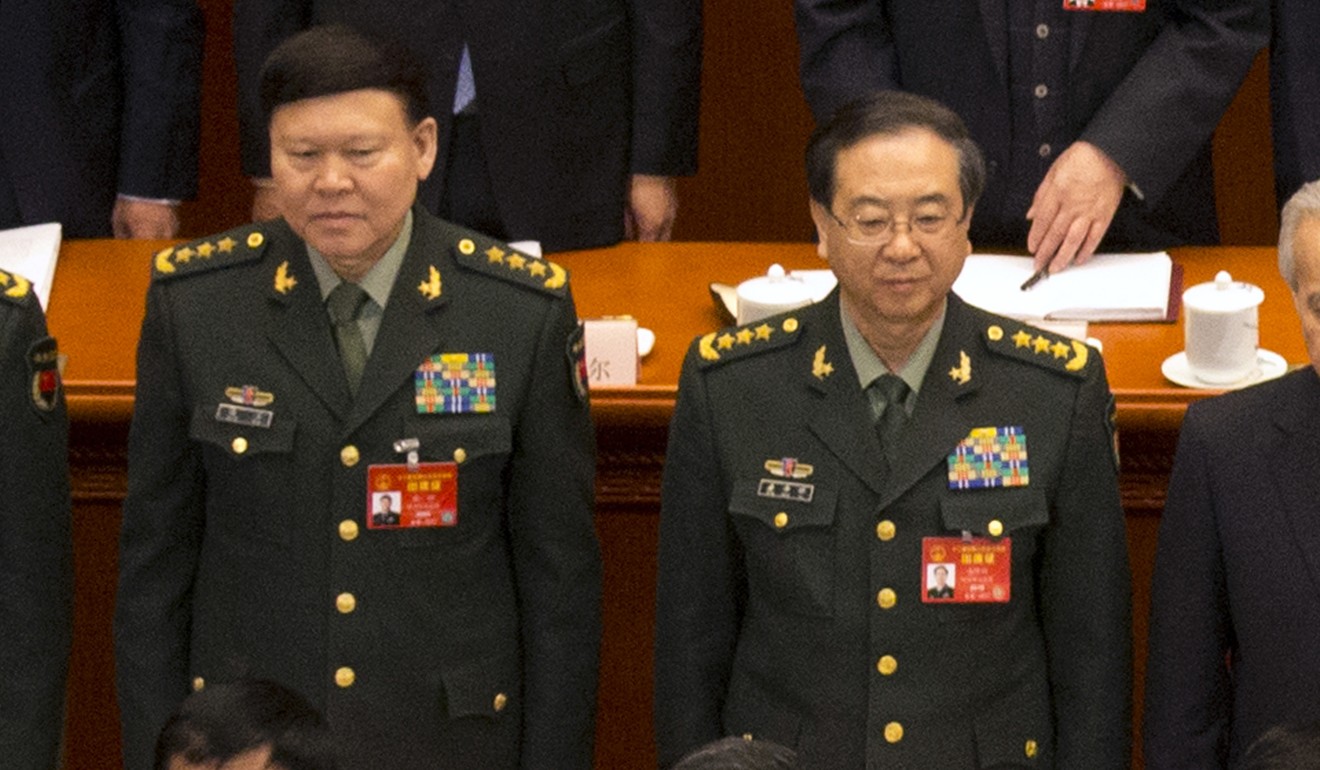 An article posted on the website of the PLA Daily on Tuesday said: "Zhang, a paramount and powerful heavyweight, used such a shameful way to end his life." It described his suicide as a "bad move to escape punishment".
The article said the investigation of Zhang had been part of the Communist Party's anti-graft work to root out the "harmful influence left by Guo and Xu". It said Zhang had pretended to be a loyal official, but was a person without a "moral bottom line who severely harmed the party's image".
Zhang and another military heavyweight, former chief of general staff General Fang Fenghui, were left off the list of PLA delegates to the party's national congress in Beijing last month.
In late August, state media reported that Fang's had been replaced as chief of general staff by war hero General Li Zuocheng, while Admiral Miao Hua had taken over Zhang's political work in the CMC.
Sources close to the military told the Post earlier that both Zhang and Fang were taken away for questioning over corruption on the same day soon afterwards.
Xinhua's report of Zhang's death said he had been summoned for questioning by the CMC on August 28.
Another source, based in Beijing, said Zhang and Fang were brought down by an internal political struggle ahead of the five-yearly party congress.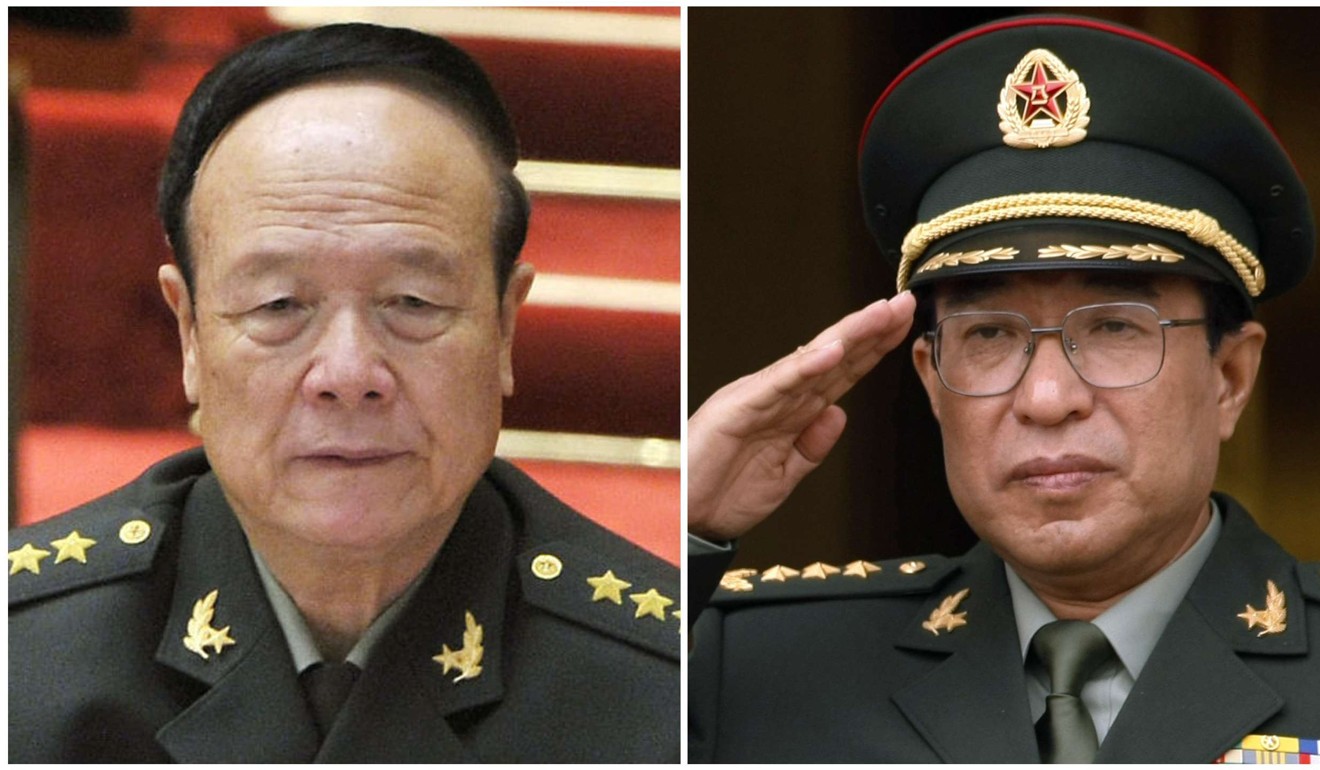 He said they had been released after questioning but had been under house arrest since then.
The Guangzhou source said there was speculation in military circles that Zhang had given Guo more than 25 million yuan (US$3.7 million) in bribes.
Zhang's home in Guangzhou, a luxury villa, was searched by military inspectors on Saturday, the Guangzhou source said, adding that they had seized the villa and its contents.
"Zhang's death may affect other anti-graft inspection work because his case involved many other military officers," he said. "He may have wanted to use his death to protect friends involved in his case."
Zhang is not the only military heavyweight to have died during the massive anti-graft campaign launched by party general secretary Xi Jinping soon after he became party leader in November 2012.
In 2014, Vice Admiral Ma Faxiang, deputy political commissar of the PLA Navy, leapt from a building at a naval complex in Beijing. Ma's death came less than three month after Rear Admiral Jiang Zhonghua, from the South Sea Fleet's armaments department, plunged to his death from a hotel building in Zhoushan, Zhejiang province, while being questioned by military disciplinary inspectors.
At least 13,000 military officers have been investigated over the past five years, the PLA Daily reported last month, with Guo and Xu the most senior ones probed for buying and selling military ranks and other forms of corruption.