Refugee rescue ship sails to aid of anti-migrant activists stranded in Med
Click here to view the original article.
[Oh, brother! German NGO says its rescue vessel is sailing to help a group of far-right activists after their ship got into trouble off the coast of Libya. *RON*]
Jon Henley
, The Guardian, 11 August 2017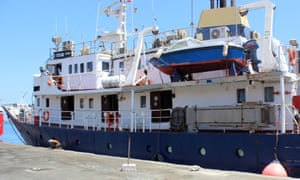 The C-Star vessel hired by far-right activists from a group that calls itself Generation Identity. Photograph: STRINGER/AFP/Getty Images
An NGO vessel that has saved the lives of hundreds of migrants in the Mediterranean is sailing to the rescue of a group of far-right anti-immigration activists whose ship is in difficulties off the coast of Libya.
The German NGO Sea Eye said one of its search and rescue boats was on its way to the C-Star, manned by members of the extremist Generation Identity group, which sent a distress signal after an engine failure left it unable to manoeuvre.
Michael Busch Heuer, the founder of the
Regensburg-based aid organisation
, which operates two rescue vessels active in the Mediterranean since early 2016, said it was the duty of anyone at sea "to help those in distress, irrespective of their origin, colour, religion or beliefs".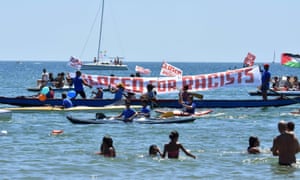 Protest against far-right group in waters off Sicily. Photograph: Orietta Scardino/EPA
Sea Eye said in a statement on its Facebook page
that it had been informed on Friday morning by Operation Sophia, the joint EU naval operation deterring migrant smugglers and human traffickers in the Mediterranean, that the 40-metre (130ft) C-Star was in difficulty.
"Since our vessel the Sea Eye is closest to the C-Star, we were instructed by the maritime rescue coordination centre in Rome, the emergency service for the western Mediterranean, to go to its aid," the NGO said.
Generation Identity's self-styled "Defend Europe" mission played down the incident, calling it a "minor technical problem" that meant the vessel was "not under command".
View image on Twitter
Follow
Defend Europe @DefendEuropeID

The
#CStar
is having technical difficulty. We're resolving it. No distress.
#DefendEurope
4:12 AM - Aug 11, 2017
Defend Europe chartered the C-Star in Djibouti last month after raising €75,000 (£67,000) through crowdfunding. After originally promising to actively block migrant boats, it now says it is "monitoring" rescues in the Mediterranean.
The group – part of a five-year-old movement of young, far-right activists from France, Germany, Austria, Italy and the UK who are opposed to Islam and immigration – accuses NGOs that have rescued about one third of the nearly 100,000 people saved in the Mediterranean this year of illegally working with people smugglers to bring migrants to
Europe
.
Katie Hopkins, the MailOnline columnist, met members of the group in Catania, Sicily,
tweeting
: "Good to meet Team C-Star @DefendEuropeID. Young people, eight nations, crowdfunded, shining a light on NGO people traffickers in Med."
But the Defend Europe venture has not been an unmitigated success. First, the C-Star was held up for a week in the Suez canal by Egyptian authorities looking for weapons. Then
some of its Sri Lankan crew jumped ship
when it docked in the Cypriot port of Famagusta last month; several reportedly asked for asylum. The ship's crew and owner,
Sven Tomas Egerstrom
, were accused in court of preparing and circulating false documents but later released.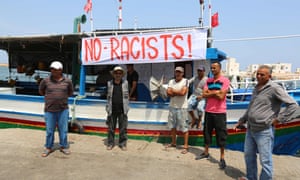 Tunisian fishermen protest against a berthing of the C-Star vessel in Zaris, Tunisia. Photograph: Fathi Nasri/AFP/Getty Images
After leaving Cyprus on 1 August and
being advised not to dock in Greece or Sicily
for fear of protests, the vessel, which flies the Mongolian flag, was
prevented by Tunisian fishermen from putting into the port of Zarzis
for supplies.
"If they come here, we'll block the refuelling channel," said Chamseddine Bourassine, a local fishermen's leader. "It is the least we can do given what is happening out in the Mediterranean. Muslims and Africans are dying."
The Tunisian Forum for Economic and Social Rights, a local NGO, said it would oppose any attempt by the C-Star to dock and take on fresh supplies of fuel, food and water in a Tunisian port. It called on the government "not to cooperate with its racist and dangerous crew".