Spanish FA president Ángel María Villar Llona arrested on corruption charges
Click here to view the original article.
[Villar Llona and four others held after raid on RFEF headquarters. Arrests follow investigation into finances of Spanish federations. The most corrupt sport in the world. If you have Netflix, watch Planet FIFA. Alternately,
watch the BBC documentary, FIFA's Dirty Secrets here
. *RON*]
Associated Press, The Guardian, 18 July 2017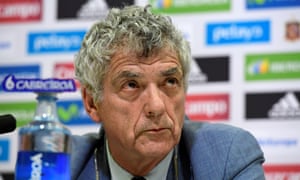 Angel Maria Villar Llona, the president of Spain's football association, was detained by police on Tuesday morning. Photograph: Javier Soriano/AFP/Getty Images
Police in
Spain
say they have arrested Ángel María Villar Llona, the president of Spain's football association, Real Federación Española de Fútbol (RFEF).
Villar Llona, who is also a senior vice-president at Fifa and
Uefa
, was arrested on Tuesday morning along with his son and three other federation executives as part of an anti-corruption investigation.
Spain's Guardia Civil said in a statement on Tuesday that Villar Llona, his son Gorka, and three other football officials were detained while raids were carried out at the federation headquarters in Madrid.
Police said the other three men who were arrested were Juan Padron, the federation vice president of economic affairs, and both the president and the secretary of the regional federation for Tenerife.
Police said the five men were arrested on charges of corruption as part of an investigation into the finances of the federations.
Spain's minister of education, culture and sport, Íñigo Méndez de Vigo, said moments after the raids that "in
Spain
the laws are enforced, the laws are the same for all, and nobody is above the law".
Uefa said in a statement it "is aware of the reports regarding Mr Villar Llona. We have no comment to make at this time."