'Take cover' emergency declared at Hanford Nuclear Reservation in Washington state
Click here to view the original article.
["No radiation detected" after partial tunnel collapse over railcars carrying waste. This is roughly 350 miles from here. *RON*]
Karin Larsen,
CBC News
, 9 May 2017
A photo released on the Hanford Emergency Information website shows a hole in the roof of a tunnel that is used to store radioactive waste. (Hanford Emergency Information)
An emergency has been declared at the Hanford Nuclear Reservation in south-central Washington state after the partial collapse of a tunnel containing railcars full of nuclear waste.
"Near where two tunnels join together there is a [six-metre by six-metre] cave-in," said a Hanford joint information centre spokesperson. "There is no detected contamination or [radiation] release at this time."
Hanford has about 211 million litres of waste stored in underground tanks.
Approximately 3,000 workers in the vicinity of the cave-in were told to "take cover" in offices or trailers when it was first detected, but as of 3 p.m. PT all non-essential staff were allowed to leave the site.
Surrounding residents in Benton and Franklin counties were not affected and updates are being posted on the
Hanford Emergency Information website
.
The tunnels were built during the Cold War to store contaminated equipment from plutonium production. According to the website, they were made of "wood and concrete with a soil covering approximately 8 feet [2.4 metres] deep."
View image on Twitter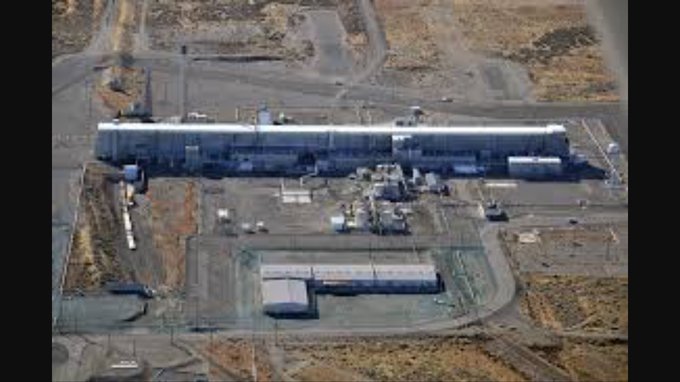 Follow
Susannah Frame
✔@SFrameK5
Photo of massive plutonium finishing plant at Hanford. Tunnel that collapsed led to this building.
8:57 AM - 9 May 2017
259259 Retweets
6868 likes
Randy Bradbury, a spokesperson for the Washington state Department of Ecology, said no workers were injured or exposed to radiation, and none were inside the tunnel when it collapsed.
The cave-in occurred near the Plutonium Uranium Extraction Facility, also known as PUREX, located in the middle of the sprawling Hanford site, which is 1500 square kilometres.
Hanford is located near Richland, about 300 kilometres southeast of Seattle.
Hanford is now the largest repository of radioactive waste in the United States. (Ted S. Warren/Associated Press)
A source said crews doing road work nearby may have created enough vibration to cause the collapse.
A message was sent to all personnel telling them to "secure ventilation in your building" and "refrain from eating or drinking," when the emergency alert first went out.
Largest nuclear waste repository in U.S.
For decades Hanford made plutonium for nuclear weapons, including for the bomb dropped on Nagasaki, Japan.
It is now the largest repository of radioactive waste in the United States.
Hanford has about 211 million litres of waste stored in underground tanks awaiting permanent disposal. Some tanks date back to the Second World War and are leaking.
The U.S. government has spent more than $19 billion trying to clean up the Hanford site.
With files from The Associated Press