Click here to view the original article.
[Politicians are the 1%: puppets of
the Deep State
, one and all. Barack Obama, George Osborne and David Cameron can all now command six-figure sums for a few pithy bon mots from the podium. But what do their audiences get out of it? *RON*]
Larry Elliott
and
Jill Treanor
, The Guardian, 4 May 2017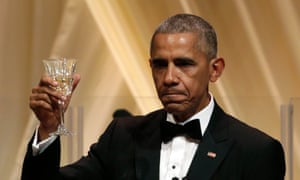 Cheers! President Barack Obama is set to earn $400,000 from an audience of Wall Street bankers. Photograph: Yuri Gripas/AFP/Getty Images
When Barack Obama banks the cheque for $400,000 he will receive for talking to an audience of Wall Street bankers and their most important clients in September, the former president might like to quietly thank the statesman who did so much to pioneer the idea of the celebrity political speaker:
Winston Churchill
.
More than 70 years ago, in March 1946, Churchill – recently ousted as prime minister – turned up at Westminster college in Fulton, Missouri to present his views on the state of the world. The audience in Fulton certainly got more than it bargained for, because Churchill used his lecture to coin the phrase that came to describe the cold war: Britain's wartime premier– with US president Harry Truman in the audience – described how an "iron curtain" had descended across Europe, from Stettin on the Baltic Sea to Trieste on the Adriatic.
These days, former US presidents are the biggest draw on the international speaker circuit. Their speeches can command hundreds of thousands of dollars from banks, hedge funds and corporations. The reasons behind inviting esteemed guest speakers have changed little down the years. Hosts are looking for political insight, information that makes them think they are in the know, or simply some juicy gossip.
By the standards of American chief executives, occupants of the White House are poorly paid: Obama will earn as much for his speech at Cantor Fitzgerald on the sensitive theme of healthcare issues as he earned in a year as president. His predecessors bagged far bigger fees: Bill Clinton once received $750,000 for addressing the telecoms company Ericsson in Hong Kong.
But speaking for big bucks can have its pitfalls.
Hillary Clinton
quickly joined the speaking circuit after leaving office as secretary of state in 2013, for a minimum of $225,000 per speech. But a series of talks paid for by Goldman Sachs, including one at the bank's "Builders and Innovators" conference, held in Marana, Arizona, were cited by her political rivals as examples of how out of touch with ordinary voters she had become.
David Cameron and
George Osborne
have faced similar problems. After presiding over a period of falling real wages that is unprecedented since Victorian times, the pair command more for a speech than their erstwhile constituents could make in a year. Neither appears especially bothered, however. Cameron has reportedly told friends that it is "time to put some hay in the barn" following his departure from politics. Osborne – who only resigned as an MP when the snap election was announced– said he was just doing what his predecessors had done.
Osborne's speeches were given in private, but the fees he received had to be disclosed while he remained an MP. In just one week in November – five months after he was fired by Theresa May – he received £187,474 for speeches at banks and hedge funds in London and New York. Among those payments was £34,109 from BlackRock, the world's biggest fund manager, which has since hired him to work one day a week, for £650,000 a year. He has also been paid to speak by Wall Street bank JP Morgan, and at the annual meeting of the rich and powerful in Davos in January – where he was pictured socialising with George and Amal Clooney – the former chancellor received £51,829 from HSBC. At HSBC's annual meeting on Friday, the bank's chairman, Douglas Flint, was challenged about Osborne's role, and said the former chancellor had talked about global political issues.
Alistair Darling
, Osborne's predecessor at the Treasury, takes issue with the idea that all ex-politicians are raking it in. "The Americans seem to pay very large sums of money," Darling says. "But I don't do the after-dinner circuit and and I've never spoken in America."
Some former politicians have earned a reputation as accomplished after-dinner speakers, notably William Hague, the former foreign secretary, who has been dubbed "the David Beckham of witty toasts" by Hillary Clinton.
American audiences were especially interested in what Thatcher had to say about the lifting of the Iron Curtain, and in John Major's take on the first Gulf War against Saddam Hussein in 1990. Tony Blair's decision to join George W Bush in the 2003 invasion of Iraq meant he was the most sought-after British politician since Thatcher.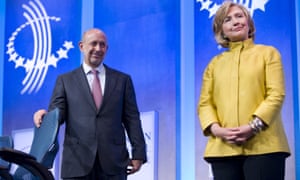 Hillary Clinton with Lloyd Blankfein, CEO of Goldman Sachs, which has paid her for speeches on several occasions. Photograph: Stephen Chernin/AFP/Getty Images
The hot topics these days are Brexit (about which Alistair Darling says he has done quite a few, "at conferences and seminars"), insight into European and US politics and trade wars. Cameron spoke at a tourism conference in Bangkok this week. "The lack of a referendum was poisoning British politics and so I put that right," he said. He also tailored his words for his audience, telling delegates that the "biggest threat to our world, and also to your industry, is the threat of Islamist extremism".

Andrew Honnor of Greenbrook Communications, which advises hedge funds, says people engage speakers to help manage and understand political risk: "Everyone is trying to get their head around it, and how to factor it into their models."

Many of the events, like Osborne's, are held in private, with invitation-only audiences of either staff or clients, often on the understanding that speakers will not be quoted, in the hope that politicians will spill the beans. But even so, one City executive says, this does not necessarily make the politicians less cautious: "The speakers are still aware that something they say could get out of the room."

Hedge funds, always desperate for information, are among the biggest users of political speakers, possibly just to stay in touch with the real world. Don't underestimate the bubble that some of some of these guys live in," says Honnor. "They crawl over financial models and think very differently to the way a politician thinks."