[Now that Trump has brought in a climate change denier to head the EPA, the EU looks to Canada to support the Paris Accord. Will Trudeau have the courage to step up and defend it? *RON*]
Canadian Press, Huffington Post, 3 March 2017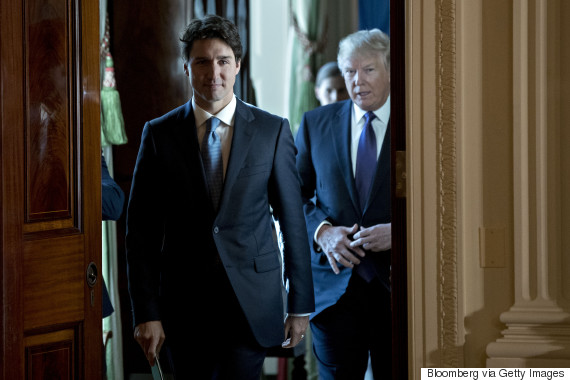 Prime Minister Justin Trudeau and U.S. President Donald Trump arrive to a news conference in the East Room of the White House in Washington, D.C., Feb. 13, 2017. (Photo: Andrew Harrer/Bloomberg via Getty Images)
OTTAWA — The European Union's environment commissioner wants to join forces with Canada to "defend" the Paris climate change accord in the face of an uncertain political landscape in the U.S. under Donald Trump.
"Canada and the European Union are committed to implement Paris, defend Paris," EU Climate Action and Energy Commissioner Miguel Arias Canete said Thursday night on a visit to Ottawa.
"Now we have a common task — we have to implement the rule book of Paris."
Canete said the EU wants to work constructively with the new Trump administration but can't predict what the future will bring. The one thing he guaranteed is that the 28-country European bloc would fight for the Paris accord and would build alliances, including with Canada, to do just that.
"We have only one planet. Global warming is a reality," he said.
Canete met with Environment Minister Catherine McKenna, who has kept a noticeably lower profile on Canada-U.S. relations since Trump's victory in November.
However, the minister did take part Wednesday in a phone call with her U.S. counterpart, Scott Pruitt, the newly appointed head of the Environmental Protection Agency.
'Clear economic opportunity'
"I emphasized that our government is committed to the Paris agreement. We're committed to taking serious climate action, and that we see that as a real economic opportunity" McKenna said at a joint press conference with Canete at the European Union embassy in Ottawa.
McKenna said the fight against climate change presents "huge" economic opportunities in clean growth, and she pointed to China, which made a strong contribution towards the outcome in Paris.
"The opportunity is in the trillions of dollars when it comes to clean technology. So we think this is a clear economic opportunity, but we need to work at it and we need to bring everyone along."
McKenna said the "market moved" positively when Paris was signed, and that was a signal that a "lower carbon future" was inevitable and would create jobs.
Trump has made job creation his top priority but he has famously described climate change as a hoax, though some of his cabinet appointees have recently testified during their confirmation hearings that they don't share that view.
His newly installed energy secretary, former Texas Gov. Rick Perry, once said during his own bid for the Republican nomination that he would eliminate the very department of which he is now in charge.
Perry has since said he would work to develop American energy in all forms, including oil and gas as well as renewables such as wind and solar. He has also disavowed his 2011 talk of dissolving the Energy Department.
Standing next to Trump in Washington last month, Prime Minister Justin Trudeau made no mention of the 2015 Paris Accord that he helped negotiate with Barack Obama. Instead he chose to highlight the more obscure 1991 Air Quality Agreement.
After their meeting, Trudeau and Trump issued a joint declaration that stressed a renewed commitment to enhance energy co-operation in the Great Lakes border region and on energy projects such as the Keystone XL pipeline.
Meanwhile, as a steady stream of Liberal cabinet ministers have descended on Washington in recent months to forge links with the incoming Trump administration, McKenna has been noticeably absent until recently.
McKenna said the U.S. and Canada have a long history of working together to ensure clean air and water.
European officials have made no secret of their disdain for Trump's anti-environmental rhetoric.
When the Canada-EU free trade deal was recently ratified by the European Parliament, the EU Trade Commissioner, Cecilia Malmstrom, said Canada and the EU "share the democratic values of tolerance and openness."
"We co-operate in tackling common challenges such as migration, sustainable development, climate change and terrorism," Malmstrom said.
Werner Hoyer, president of the European Investment Bank, told a Brussels news conference in January that Europeans "must lead the world against climate change skeptics."
With files from the Associated Press