'Let it be an arms race': Donald Trump clarifies position on nuclear weapons
Click here to view the original article.
[President-elect tells MSNBC: 'We will outmatch them at every pass.' Confusion over nuclear policy reigns as aides seek to explain tweet. *RON*]
U.S. President-elect Donald Trump talks to members of the media at Mar-a-Lago estate in Palm Beach. Photograph: Carlos Barria/Reuters
Asked on Friday morning for clarification of his remarks about America's need to "strengthen and expand" its nuclear weapons, President-elect
Donald Trump
said: "Let it be an arms race."
Trump
spoke by phone to MSNBC Morning Joe host Mika Brzezinski
, who reported the conversation with co-host Joe Scarborough. Both spoke while wearing pyjamas and slippers and sitting in front of a roaring fire.
On Thursday, Trump
used Twitter to say
the US "must greatly strengthen and expand its nuclear capability until such time as the world comes to its senses regarding nukes".
As well as the opaque meaning of the remark, subsequent debate centered on whether it was prompted by similar words
from Russian president Vladimir Putin
.
He
said on Thursday
: "We need to strengthen the military potential of strategic nuclear forces, especially with missile complexes that can reliably penetrate any existing and prospective missile defence systems."
A statement from a member of the incoming White House press team, communications director Jason Miller, failed to clarify the issue.
Trump had "emphasized the need to improve and modernize our deterrent capability as a vital way to pursue peace through strength", Miller said. He later told Reuters Trump was not advocating the use of nuclear weapons and that the tweet should not be read as a new policy proposal.
In
a press conference on Friday
, Putin said any arms race was caused by the US pulling out of the Anti-Ballistic Missiles Treaty –
under George W Bush in 2002
– and said: "If someone is stimulating a nuclear arms race it's not us."
On MSNBC, speaking to camera, Scarborough said: "Mica asked the president-elect while we had the opportunity … to clarify the tweet yesterday regarding the nuclear arsenal. And the president-elect told you what?"
"'Let it be an arms race'," Brzezinski said. "'We will outmatch them at every pass.'"
"'And outlast them all'," Scarborough added.
"And outlast them all," Brzezinski repeated, wonderingly.
"You can put that down as breaking news," Scarborough said.
Trump is spending Christmas at his Mar-a-Lago resort in Florida. His main engagement for the day was a round of golf with Tiger Woods.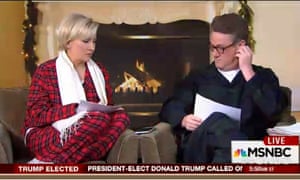 Mika Brzezinski and Joe Scarborough on Morning Joe Friday. Photograph: MSNBC
Trump's reported remark contradicted comments to the same network from his incoming press secretary, Republican National Committee communications chief Sean Spicer. He told NBC Trump would not allow an arms race, because he would stop other countries from increasing their stockpiles of nuclear weapons.
"He's going to ensure that other countries get the message that he's not going to sit back and allow that," Spicer said. "And what's going to happen is they will come to their senses, and we will all be just fine."
In two customary pre-dawn
tweets
, meanwhile, Trump complained about political pressure that led to his son, Eric Trump, being forced
to stop directly raising money
for a charitable foundation.
"My wonderful son, Eric, will no longer be allowed to raise money for children with cancer," Trump
said
, "because of a possible conflict of interest with my presidency.
"Isn't this a ridiculous shame? He loves these kids, has raised millions of dollars for them, and now must stop. Wrong answer!"
The complaint followed a report by the Associated Press that Eric Trump's foundation financially benefited charities connected to his family and members of his foundation's board. Eric Trump said he would stop soliciting donations because he worried about the perception of buying access to his father.
The issue of conflicts of interest arising between Trump's political role and his business activities – and those of his children – remains unresolved and contentious.
Recently,
three leading legal experts
released a report which said Trump should be impeached upon taking office, under the emoluments clause of the constitution, which forbids office holders being beholden to foreign interests.
The previous day was a busy one.
Trump also used Twitter to say
a United Nations resolution on Israeli settlements
should be vetoed
, triggering further debate about what the president-elect meant to say and whether he should say anything with Barack Obama still in office. In the event, the UN resolution
was not voted upon
.
On Thursday evening, the president-elect also tweeted about
the comparative costs of two US fighter jets
, inserting himself into the traditionally bureaucratic process of defence procurement, and complained about "so-called '
A' list
" celebrities wanting tickets to his inauguration.
"I want the PEOPLE!" he wrote.
It was reported on Thursday that with "A-list" performers including Elton John and Garth Brooks turning Trump down,
The Beach Boys were considering an invitation
to play at the event in Washington on 20 January.
The Rockettes are also reported to be on the bill, whether
individual dancers
like the idea or not.