Berlin market attack suspect killed in Milan after shootout with police – live
Click here to view the original article.
[
Berlin Christmas market attack
. Twitter feed. *RON*]
Anis Amri was stopped during a 'routine check'
He was shot dead after opening fire
One officer was shot by Amri and is recovering in hospital
German interior ministry speaks of 'relief'
18m agoAmri made video pledging allegiance to Isis
4h agoAnis Amri confirmed killed.
37s ago14:34
Italian state police have tweeted a picture of where a bullet fired by Amri entered the uniform of the wounded Italian police officer Christian Movio:
Polizia di Stato(@poliziadistato) Bullet hole in the uniform of the policeman wounded in the shoot-out with Anis Amri. Now having surgery but not in a critical condition pic.twitter.com/BOx8lF9QwZ December 23, 2016
3m ago14:31
The Dutch far-right leader
Geert Wilders
has joined Marine Le Pen and Nigel Farage in using Amri's shooting in Italy to take a swipe at Schengen.
The Freedom party (PVV) leader, recently found guilty of inciting discrimination against Dutch Moroccans, tweeted: Geert Wilders(@geertwilderspvv)
So Anis Amri enters EU as asylum seeker, commits terror in Germany and travels to Italy. And closing our borders is a bad idea @MinPres ?? December 23, 2016
11m ago14:24
Here a video footage showing part of Merkel's press conference:
2) Vid was published minutes after Amaq posted acknowledgement that #Berlin attack suspect Anis Amri was killed in police shootout in #Milan https://t.co/DjEvqrbUq1 December 23, 2016 Rita Katz(@Rita_Katz)
3)Anis Amri claims his attack is vengeance for airstrikes against Muslims, he wishes to punish "pig-eaters"& to become a "shaheed" (martyr) December 23, 2016 Rita Katz(@Rita_Katz)
4)This video gives further indication that Amri had ties with #ISIS, but that his attack itself was ISIS-inspired, not ISIS-coordinated December 23, 2016
Updated at 2.28pm GMT
25m ago14:10
Merkel extends condolences to the families of those killed "for whom this Christmas will be a Christmas of deep sorrow".
The death of Amri does not end the investigation, says the German chancellor. They will seek to find out who was helping him and covering his acts.
Merkel says she has asked for an investigation into "each and every aspect of the case of Mr Amri" as the case has raised a number of questions. Wherever there is a need for a political or legislative change, that will be done speedily, she pledges.
The chancellor says she spoke to the Tunisian president and the process of sending back Tunisian refugees from
Germany
who have no right to stay will be speeded up. More need to be sent back, says Merkel.
We can be relieved that one acute threat has come to an end but the threat that comes from terrorism - that is a general threat - continues.
With that, the press conference ends.
Updated at 2.13pm GMT
30m ago14:04
Anglea Merkel says she was informed by the Italian prime minister that Amri was killed.
I thanked the Italian prime minister.
She wishes Christian Movio, the Italian officer who was shot, a speedy recovery.
Terrorism is a challenge for all of us and it is good to see how resolutely and how well we work together across
Europe
, says Merkel.
Updated at 2.11pm GMT
48m ago13:46
Milan police say Christian Movio, 35, the officer who was injured in the shootout with Amri, has had an operation on an injury to his right shoulder, AP reports. The surgeon says it was a superficial wound and that he was in good condition.
Movio managed to fire a round against his attacker but his partner, 29-year-old Luca Scata, fired the shot that killed Amri.
Scata has only one year's experience on the force. His shot to the chest killed Amri.
Milan's police chief, Antonio De Iesu, said the officers became suspicious after noticing Amri alone outside a closed suburban Milan train station at 3am. When asked, Amri said he had no ID papers. He also had no phone and just a small pocket knife.
But De Iesu said he had a fully loaded 22-caliber pistol that he used against the officers. "He is a ghost," De Iesu said, referring to Amri's lack of documents or phone.
Updated at 1.57pm GMT
50m ago13:44
The German chancellor, Angela Merkel, is expected to make a statement at 3pm (2pm GMT).
Steffen Seibert(@RegSprecher) Erklärung von Kanzlerin #Merkel zum Fall Anis #Amri gegen 15 Uhr: https://t.co/0lQLkkBo9l #BreitscheidplatzDecember 23, 2016
Updated at 1.53pm GMT
1h ago13:36
Matthew Weaver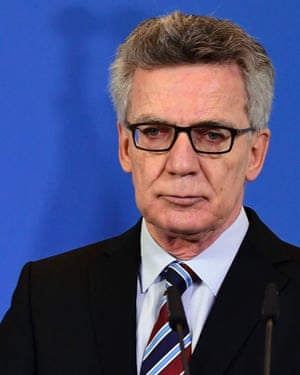 Thomas de Maizière Photograph: Tobias Schwarz/AFP/Getty Images
De Maizière expressed relief that "the attacker is not providing any danger any more".
He said a team of specialist German investigators were travelling to
Italy
to work with the Italian authorities. "I thank them for their close cooperation," he said according to a Sky News translation.
"There has been intensive European and transatlantic cooperation," he said.
"This manhunt, which has ended with success, doesn't end the investigation – we have to investigate further. Unfortunately the terror threat has not changed. It is still at high risk."
Updated at 1.51pm GMT
1h ago13:25
Matthew Weaver
Germany's interior minister, Thomas De Maizière, has confirmed that the investigation is still under way despite the death of the main suspect. Speaking at a press conference in Berlin he told reporters: "The terrorist risk remains high."
Updated at 1.29pm GMT
1h ago13:14
Matthew Weaver
Italian police have issued photographs of the two officers who confronted Anis Amri.
Amri was shot dead by Luca Scata after his colleague Christian Movio was shot in the shoulder by the suspect.
Sostenitori.info(@Sostenitori1) LUCA SCATA', IL POLIZIOTTO CHE HA UCCISO IL TERRORISTA, E' UN AGENTE IN PROVA - https://t.co/G7BBOt6jCa pic.twitter.com/21bwnt0In9December 23, 2016
Earlier, the Italian interior minister, Marco Minniti, said Movio was recovering in hospital. He added that he has thanked him and wished him a happy Christmas.
"I told him that I hope he gets better soon. The boy is very motivated. He's an extraordinary person. I thanked him for the professionalism that he demonstrated, for the professionalism that he and his colleague had demonstrated," he said.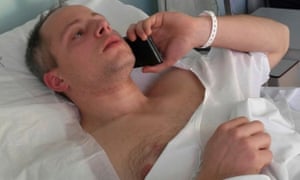 Cristian Movio, the Milan policemen shot by the suspect in the Berlin Christmas market truck attack, talks on a mobile phone as he lies injured in a hospital bed in Milan. Photograph: Handout/Reuters
Updated at 1.19pm GMT
2h ago12:51
Philip Oltermann
The website of the German magazine Der Spiegel reports that the people killed in the Berlin attack are six men and six women.
Among them are women from the Czech Republic,
Italy
and Israel. The Polish truck driver who was killed has already been named as Łukazs Urban. The remaining eight victims are German.
Among the 45 injured are citizens from Israel, Spain, Britain, Hungary, Finland and Lebanon.
Updated at 12.59pm GMT
2h ago12:47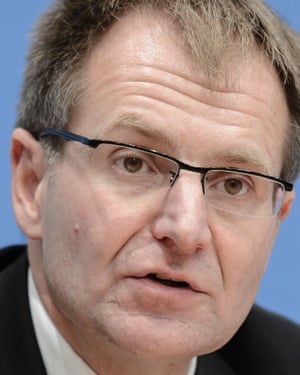 Peter Frank Photograph: Clemens Bilan/AFP/Getty Images
Germany's federal prosecutor, Peter Frank, said the main focus of his team's investigation into the Berlin attack was whether Amri had accomplices.
Speaking at a press conference in Berlin, Frank confirmed that the man shot in
Italy
was Anis Amri. He also said German police were examining how he escaped from the city.
According to a BBC translation he said: "We are in close contact with the Italian authorities. We are interested to learn whether the weapon Amri carried in Milan was the weapon used in the attack in Berlin. We are investigating with high intensity."
We want to investigate how he managed to get to Milan and whether he had any assistance or accomplices. We will look at what contacts he made in the preparation of the attack – people who may have supported him with money and aided him in the escape.
We need to establish whether there was a network of accomplices. That is the focal point of our investigation. If there were accomplices and co-offenders then of course they need to be part of our investigation.
The investigation is ongoing against unnamed people. The claim of responsibility by Islamic State is rather vague. It doesn't specify the offender.
Updated at 1.00pm GMT
2h ago12:31
The former Ukip leader, Nigel Farage, has followed in the footsteps of Marine Le Pen, attempting to use the shootout with Amri in Milan to score political points.
Nigel Farage(@Nigel_Farage) If the man shot in Milan is the Berlin killer, then the Schengen Area is proven to be a risk to public safety. It must go. December 23, 2016
2h ago12:10
Paul Torpey
This graphic shows where Anis Amri opened fire on police, injuring an officer, before being shot dead himself.Graphic showing location of shootout between Anis Amri and police
Updated at 12.10pm GMT
3h ago11:55
Matthew Weaver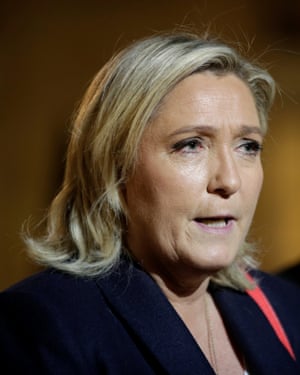 Marine Le Pen Photograph: Philippe Wojazer/Reuters
France far-right leader Marine Le Pen is trying to make political capital from Amri's shooting
by criticising Europe's open-border policy under the Schengen agreement.
She said reports suggesting that he travelled by train via France is "symptomatic of the total security disaster represented by the Schengen area".
Le Pen added:
Without permanent national borders, France and its neighbours are reduced to learning that an armed and dangerous jihadi was probably wandering on its soil only after the event.
I reiterate my commitment to give France full control over its national borders and to put an end to the Schengen agreement. The myth of total free movement in
Europe
, to which my opponents still cling in this presidential election, must be buried.
Updated at 12.44pm GMT
3h ago11:45
Italian state police have released a photograph of the officer who was shot by Amri.
Julián Miglierini(@julianmig)
This is Cristian Movio - the police officer injured by #AnisAmri in shootout in #Milan - picture from @poliziadistatopic.twitter.com/IQNdW3ZhGXDecember 23, 2016
3h ago11:43
Questions are being asked about how Amri managed to get all the way to
Italy
without being apprehended.
Philip Oltermann(@philipoltermann) If Amri really travelled all the way to Milan by train, that would have meant 24h+ on public transport, possibly with visible injuriesDecember 23, 2016