By
Daniel Tencer
, Huffington Post, 3 February 2016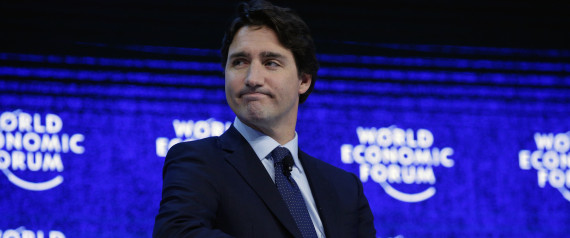 They're calling it the "Trudeau effect."
Canadians' trust in business, media, government and NGOs saw a sudden, sharp spike in the latest edition of an annual survey from public relations firm Edelman.
Edelman's "Trust Barometer" also found that Canadian-based businesses are now the world's most trusted among consumers worldwide, tied for first place with Sweden and Switzerland.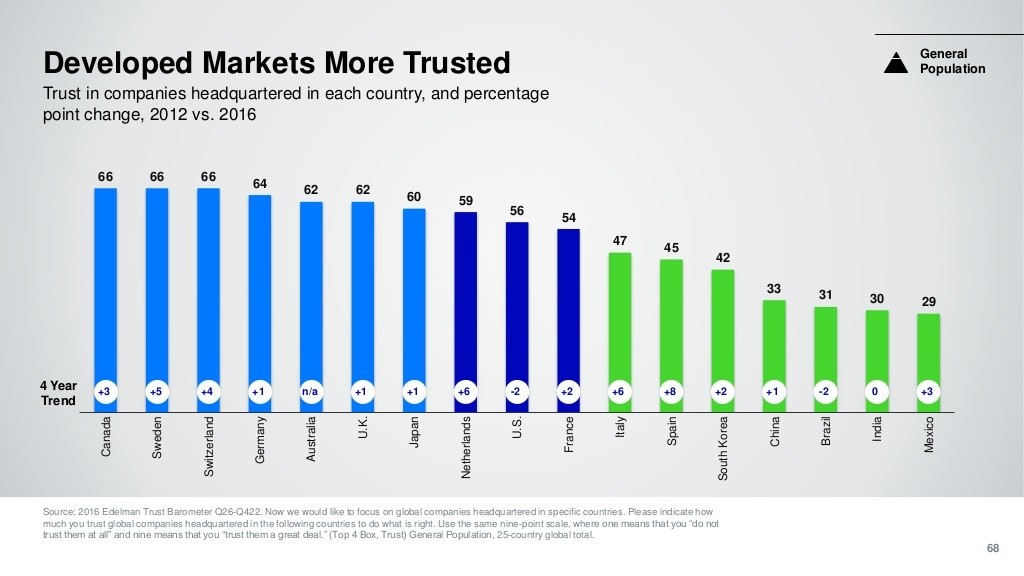 Canadian businesses are tied with Swiss and Swedish businesses for the world's most trusted. (Chart: Edelman)
Canada's top spot is
up from second place in last year's trust barometer
, when Swedish companies were ranked the most trustworthy.
Regardless of the specifics, the degree of trust placed in a country's businesses seems to reflect that country's overall global reputation.
"Companies headquartered in developed markets are still more trusted than those based in developing markets," Edelman noted.
Businesses around the world enjoyed a jump in reputation over the last year, but nowhere more so than in Canada, where trust in business jumped 13 percentage points, double the global average.
"We're dubbing the rebound in trust and optimism the 'Trudeau effect' because the study was done in the immediate aftermath of the federal election and indicates a sense of exuberance among Canadians," Lisa Kimmel, president of Edelman Canada, said in a statement.
"Regardless of one's political stripes, there are important lessons leaders can learn from the style of leadership exhibited by the new prime minister, characterized by transparency, accessibility, openness and willingness to collaborate."
That follows
last year's drop in trust
, which Edelman blamed on persistent bad news about businesses in the prior year.
But Canadians haven't entirely stopped being critical. While trust in CEOs jumped eight percentage points in a year, chief executives still have the trust of just 37 per cent of those surveyed. Only 29 per cent say CEOs are being paid fairly for their work.
"Corporate Canada still has a long way to go to win over the hearts and minds of the general population," Edelman said.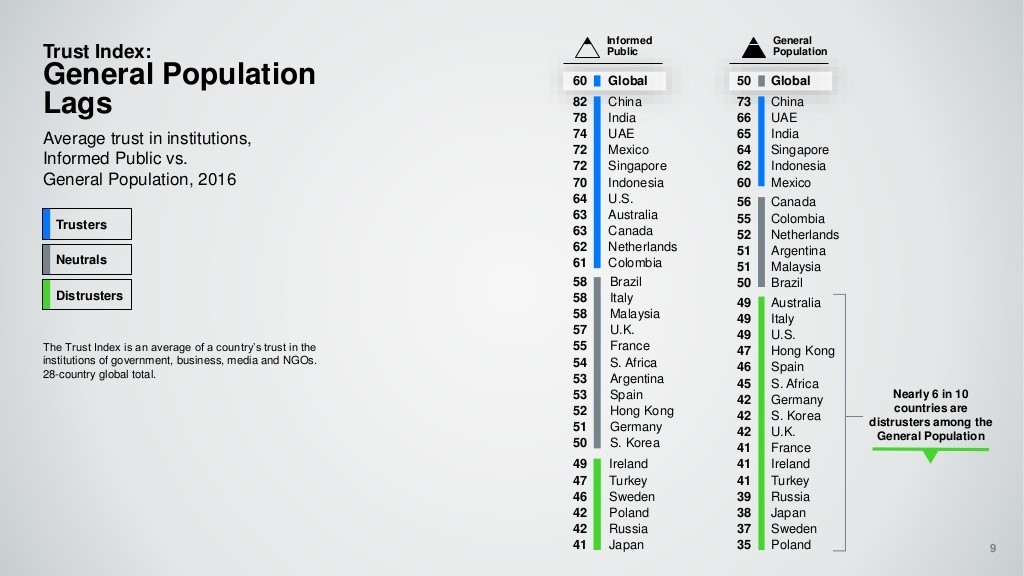 Edelman's global survey found the "informed public" is more trusting of institutions than the population as a whole. (Chart: Edelman)
That said, the survey found Canadians put more trust in business than they do in government, media or NGOs.
The survey found a degree of "trust inequality" worldwide, including in Canada. Members of the "informed public" have a greater degree of trust in institutions than the "general population," the survey found.
In Canada, 55 per cent of the general population expressed trust in institutions, compared to 48 per cent globally. Among the "informed public," 63 per cent of Canadians trusted institutions, compared to 60 per cent globally.
"The informed public is substantially more optimistic than the general public about its prospects over the next five years, Edelman said.
That's "a troubling trend for institutional leaders as it is the general public that now holds far more influence over Canadians' opinions than the informed public," it added.